---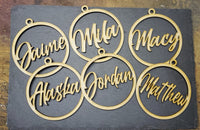 3.5", plain, unprepped wood ready to have your own touches added!  Have a craft night to decorate and paint before hanging on the tree. 
Personalize one for each member of your family. Discounts available for orders over 8. We also offer pet options!
Made of wood and laser cut to perfection, each is handcrafted to be used for many years to come! 
-----‐----------
This items come with a choice of a gift box, and pricing has been updated to reflect this. Please let us know if you would like a box for gifting by selecting yes.